Don't let a damp, moldy crawlspace ruin your home's health! Reach out to Freedom Crawlspace Services in Waxhaw, NC at (803) 493-9902 and experience the freedom of a clean, dry basement today.
Exploring Waxhaw, NC
Nestled in Union County, Waxhaw, NC is a charming town that offers a unique blend of history, culture, and natural beauty. With a population of over 20,000, this rapidly growing community has managed to retain its small-town charm while offering residents and visitors an array of attractions and amenities.
Waxhaw is known for its picturesque landscapes, dotted with some of North Carolina's best golf courses. The town's geographic location at 34.92833°N 80.74472°W provides a temperate climate perfect for outdoor activities. Nature enthusiasts can explore the local parks or take a leisurely stroll along the town's trails.
The area boasts beautifully restored buildings, quaint shops, cozy cafés, and fine dining establishments. The town also hosts several annual events that draw crowds from far and wide, including the Waxhaw Kaleidoscope Fest and the Holiday Festival of Lights.
In this vibrant community, Freedom Crawlspace Services plays a vital role. We understand that maintaining the health and safety of homes is crucial for the residents of Waxhaw. Our services are designed to ensure that every crawlspace – the often neglected part of a home – is clean, dry, and free from issues like dampness and mold.
At Freedom Crawlspace Services, we believe in building long-lasting relationships with our clients. We are committed to serving the Waxhaw community, contributing to the town's growth and prosperity. We take pride in enhancing the quality of life in Waxhaw, one crawlspace at a time.
We Provide an Array of Crawlspace Services in Waxhaw, NC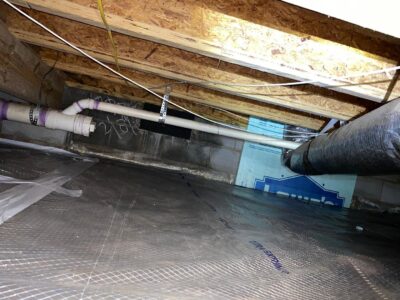 Crawlspace Encapsulation: This involves sealing your crawlspace with a moisture barrier to prevent dampness and humidity from entering. This not only helps control moisture but also improves the energy efficiency of your home.

Vapor Barrier Installation: We install high-quality vapor barriers to prevent ground moisture from evaporating into your crawlspace. This is a crucial step in maintaining a dry and mold-free crawlspace.

Insulation: Proper insulation is key to preventing heat loss and maintaining a consistent temperature in your crawlspace. Our team can install insulation to improve your home's energy efficiency and comfort.

Mold Remediation: If your crawlspace has been affected by mold due to moisture issues, our experts can provide effective mold remediation services. We'll clean up the mold and address the source of moisture to prevent future growth.

Crawlspace Structural Repair: Water damage can lead to structural issues. Our team can assess any damage caused by water or moisture in your crawlspace and carry out necessary repairs to ensure the stability of your home.

Drainage Solutions: We offer custom drainage solutions to effectively manage water around and under your home. This helps prevent water accumulation and protect your crawlspace from potential water damage.

Our goal at Freedom Crawlspace Services is to provide you with a complete solution for crawlspace waterproofing that ensures the health and longevity of your home.
Adept Crawlspace Sump Pump Services
Freedom Crawlspace Services is a leading provider of crawlspace sump pump installation in Waxhaw, NC. A sump pump plays a crucial role in preventing water accumulation in your crawlspace, protecting your home from water damage, mold growth, and structural issues. 
We offer expert sump pump installation services, ensuring that your home is equipped to effectively manage water and maintain a dry, healthy crawlspace.
Sump Pump Installation:

Our experts will assess your home's needs and install a high-quality sump pump in your crawlspace. We make sure the installation is done right, providing your home with effective water management.

Sump Pump Replacement:

If your existing sump pump is old, malfunctioning, or not adequately serving your needs, we offer sump pump replacement services. Our team can remove your old pump and replace it with a new, high-performance model.

Sump Pump Repair:

If your sump pump is not working as it should, our skilled technicians can diagnose and repair the issue. We're committed to ensuring your sump pump is in optimal condition and functioning effectively.

Battery Backup Sump Pumps:

Power outages can render your sump pump useless just when you need it the most. We offer battery backup sump pumps to keep your system running and your crawlspace dry even during power failures.

Sump Pump Maintenance:

Regular maintenance is key to the longevity and performance of your sump pump. Our maintenance services include cleaning, testing, and adjusting your sump pump to ensure it's ready to protect your home when needed.
At Freedom Crawlspace Services, we understand the importance of a reliable sump pump system in maintaining a dry and healthy crawlspace. Our comprehensive services are designed to provide you with peace of mind, knowing that your home is protected from potential water damage.
Why Opt For Our Service?
xpert Knowledge and Experience:

With years of industry experience, we have the expertise to effectively address all your crawlspace needs. From waterproofing to sump pump installation, our knowledgeable team can handle it all.

Quality Workmanship:

We take pride in delivering top-notch services with meticulous attention to detail. Our team is dedicated to ensuring the highest standards of workmanship on every project.

Customer-Centric Approach:

We value our clients and strive to provide personalized services tailored to their unique needs. Your satisfaction is our ultimate goal.

Local Understanding:

As a locally owned and operated business, we understand the specific challenges faced by homes in Waxhaw, NC. This local knowledge enables us to provide solutions that are effective and long-lasting.
Take the First Step Towards a Healthier Home Today!
Don't let crawlspace issues compromise the health and safety of your home. Our team of experts is ready to provide you with top-notch services tailored to your needs. Experience the freedom of a clean, dry crawlspace today! Call us now.