Discover why Freedom Crawlspace Services is the leading contractor for encapsulation, vapor barrier installations, and waterproofing services in Steele Creek, NC. We are dedicated to providing effective solutions to combat moisture problems that plague crawlspaces. Call (803) 493-9902!
Discovering The Vibrant Community Of Steele Creek, NC
Steele Creek is a community in southwestern Mecklenburg County, North Carolina.
The neighborhood combines urban convenience with a suburban atmosphere and embraces its history while looking towards the future.The city has numerous parks and nature trails for outdoor activities, including the Steele Creek Park & Campground. It also hosts many annual events that foster a sense of community.
For years, Freedom Crawlspace Services has been providing crawlspace solutions for moisture, mold, and water issues in Steele Creek and the surrounding areas for years.
We specialize in crawlspace encapsulation, vapor barrier installations, and waterproofing services. Our team of professionals works diligently to combat any moisture problems in your crawlspace, preventing mold growth and structural damage that can compromise the integrity of your home.
We're not just another service provider in Steele Creek; we're a part of the community. We take pride in our work because we know it helps our neighbors live healthier, happier lives in their homes. Our commitment to quality service and customer satisfaction has made us a trusted partner for homeowners throughout Steele Creek.
Why Choose Our Services?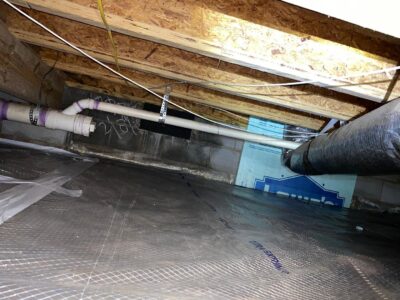 Expertise:

We have a team of highly trained professionals with extensive experience in crawlspace services. Our expertise ensures that we provide the best solutions for crawlspace moisture issues.

Comprehensive Services:

From mold remediation to vapor barrier installation, we offer a wide range of services designed to keep your crawlspace dry and healthy. We provide a one-stop solution for all your crawlspace needs.

Quality Customer Service:

We value our customers and strive to provide exceptional customer service. Our team is committed to addressing your concerns promptly and ensuring your satisfaction with our services.

Community-Focused:

As a part of the Steele Creek community, we understand the unique needs of local homeowners. We take pride in serving our neighbors and contributing to the health and safety of our community.
Having Problems With Your Crawlspace? Feel Free to Call Us!
If you're experiencing issues with your crawlspace, you're not alone. Many homeowners face problems such as moisture, mold, pests, and structural issues in their crawlspaces. These problems can lead to a variety of issues throughout your home and even impact your health. 
Don't wait for moisture and mold to compromise the health of your home and family. Take action today! Contact Freedom Crawlspace Services at (803) 493-9902 and let our team of experts provide the solutions you need. Experience the freedom of a healthy, dry crawlspace now!