Trust the experts for reliable and safe crawlspace repairs with freedom crawlspace services. Don't compromise on your home's safety. Contact us today at(803) 493-9902 for professional crawlspace services.
Discover Clover, South Carolina
Clover is a town located in York County, South Carolina, with a population of around 5,000 residents. It is situated in the northwestern part of South Carolina, close to the border with North Carolina. Clover is approximately 20 miles southwest of Charlotte, North Carolina, making it a part of the Charlotte metropolitan area.
The town's growth was primarily driven by the textile industry, with several mills at one point providing employment opportunities to many local residents. Clover offers opportunities for outdoor recreation, with Lake Wylie providing boating, fishing, and other water activities, and the Clover Community Park featuring sports fields, a walking track, playgrounds, picnic areas, and a community center.
The town hosts several annual events, including the "Strawberry Festival," which celebrates the local strawberry harvest with live music, food vendors, arts and crafts, and family-friendly activities. Clover is known for its small-town charm and friendly community atmosphere, with local businesses, shops, and restaurants in the downtown area offering a quaint and welcoming ambiance.
If you live in Clover, SC, it is best to take care of your home with the help of a reliable crawlspace contractor – Freedom Crawlspace Services. Give us a call to know more about us and our services.
Advanced Technologies for Dehumidifier Installation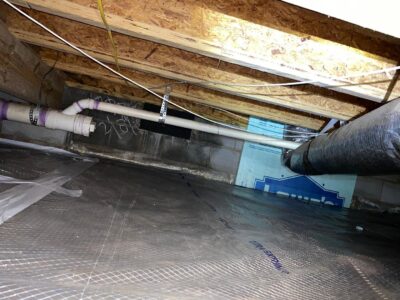 We strive to provide our customers with top-notch service and results that exceed their expectations. That's why we use only the most advanced technologies when it comes to our crawlspace dehumidifier installation processes. By choosing us for your installation, you can be sure that your basement or crawlspace will be comfortable and safe for years to come.
If you're ready to explore how a dehumidification system can help keep your basement or crawlspace safe and comfortable, contact Freedom Crawlspace Services today. We'll be happy to provide you with a free consultation and answer any questions you might have. 
With our help, you can take the necessary steps to protect your home from moisture-related damages and enjoy improved air quality in no time.
Here are some key points highlighting the excellence of crawlspace dehumidifiers:
Moisture Control

: Crawlspace dehumidifiers are designed to control and reduce excess moisture in crawlspaces. Dehumidifiers extract moisture from the air, preventing these issues and creating a drier environment.

Mold Prevention

: Crawlspace dehumidifiers help prevent mold by reducing humidity levels, inhibiting mold spore germination, and creating a less favorable environment for mold growth.

Improved Air Quality

: Dehumidifiers help remove excess moisture and the pollutants and odors associated with dampness, resulting in improved air quality throughout the building.

Structural Integrity

: By maintaining optimal humidity levels, crawlspace dehumidifiers help preserve the structural integrity of the building and prevent costly repairs in the long run.

Energy Efficiency

: Crawlspace dehumidifiers have automatic humidity sensing, adjustable settings, and energy-saving modes. These features help optimize energy consumption and reduce operating costs while controlling moisture in crawlspaces.

Versatility

: Crawlspace dehumidifiers come in various sizes and capacities to suit different crawlspaces. 

Long-Term Investment

:By preventing moisture-related issues, protecting the structure, and improving air quality, dehumidifiers contribute to the longevity of the building and provide a healthier living or working environment for occupants.
Wide Range of Crawlspace Services Available
3 Top Reasons Why You Should Choose Us for Crawlspace Services
Experienced Professionals:

Our team consists of highly skilled and experienced professionals who specialize in crawlspace services. With their expertise, you can trust that your crawlspace will be handled with care and precision.

Quality Workmanship:

We take pride in delivering top-notch workmanship on every project. From thorough inspections to meticulous repairs and installations, we ensure that the job is done right the first time, leaving you with a durable and reliable crawlspace.

Excellent Customer Service:

Customer satisfaction is our top priority. We strive to provide excellent customer service throughout the entire process, from initial consultation to project completion. Our friendly and knowledgeable team is always available to address any questions or concerns you may have.
At the end of the day, our goal is to provide you with a safe and well-maintained crawlspace that meets your unique needs. With our team of professionals, quality workmanship and excellent customer service, you can rest assured that your crawlspace will be taken care of promptly and efficiently. 
So when you're in need of crawlspace services, don't hesitate to give us a call!