Don't let crawlspace issues undermine the integrity of your home. Freedom Crawlspace Services in Weddington, NC, specializes in crawlspace repair and maintenance to keep your home on solid ground. Call us today and secure your peace of mind.
About Weddington, NC
Weddington is a suburban town in Union County, North Carolina, located 15 miles southeast of Charlotte and is the third wealthiest town in North Carolina.
Weddington is known for its beautiful residential areas, ranging from comfortable homes to grand estates. The town has a mix of countryside living with the convenience of being near a city. Weddington has numerous parks and green spaces, perfect for outdoor activities.
The annual Weddington Art Festival showcases local artists' work. The town also hosts an annual Christmas Tree Lighting event, bringing the community together in celebration of the holiday season.
At Freedom Crawlspace Services, we are proud to serve the wonderful community of Weddington. As a local business, we understand the specific needs and concerns of Weddington homeowners. Our team of experienced professionals is dedicated to providing the highest quality service in crawlspace repair, encapsulation, and waterproofing.
We recognize that each home in Weddington is unique – from the historic houses that tell stories of the town's early settlers to the modern, luxurious homes that epitomize the town's prosperity. Therefore, we tailor our services to meet the individual requirements of each property.
Other Services We Offer in Weddington, North Carolina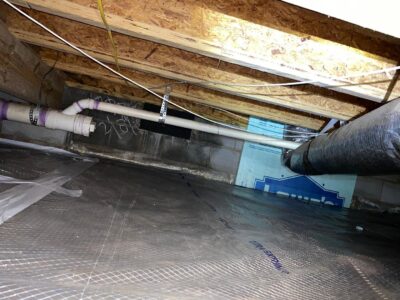 Crawlspace Encapsulation
Crawlspace encapsulation involves completely sealing your crawlspace with a vapor barrier, including the floors, walls, and sometimes even the ceiling. This comprehensive approach creates an impermeable barrier between your home and the damp earth below, reducing the risk of moisture-related issues.
Insulation Installation
Proper insulation works hand-in-hand with a vapor barrier to regulate your home's temperature and keep it energy efficient. We provide insulation installation services to complement our vapor barrier installations, ensuring your home is fully protected from temperature fluctuations and moisture.
Mold and Mildew Prevention
One of the significant benefits of a vapor barrier is its ability to prevent the growth of mold and mildew. By controlling the level of moisture in your home, we can help prevent these harmful organisms from taking root.
Structural Damage Repair
Excess moisture can lead to structural damage over time. Our team not only installs vapor barriers to prevent future damage but also provides repair services for any existing damage caused by moisture or humidity.
Energy Efficiency Improvement
By controlling the moisture levels in your home, a vapor barrier can help improve your home's energy efficiency. This can lead to lower heating and cooling costs, making your home not only healthier but also more economical.
At Freedom Crawlspace Services, we understand that every home is unique. That's why we offer a range of services, allowing us to tailor our approach to best meet your specific needs and ensure your home remains a safe, comfortable, and healthy living environment.
Why Choose Freedom Crawlspace Services?
Expertise and Experience:

With a team of highly skilled professionals, Freedom Crawlspace Services brings years of industry experience to every job. Our expertise allows us to provide top-notch service, from simple inspections to complex crawlspace encapsulation projects.

Tailored Solutions:

We understand that every home is unique, which is why we customize our services to meet your specific needs. Whether it's vapor barrier installation, mold prevention, or structural damage repair, we create a solution that's right for your home.

Commitment to Quality:

Quality is at the heart of everything we do. From using high-grade materials in our installations to ensuring meticulous attention to detail, we strive for excellence in every project we undertake.

Guaranteed Customer Satisfaction:

Your satisfaction is our priority. We believe in building strong relationships with our clients through excellent communication, reliable service, and a commitment to exceeding expectations. We're not just offering a service; we're providing peace of mind.
If you're experiencing issues with your crawlspace, don't hesitate to contact us. Our team of experts will prevent problems from arising. We understand that each situation is unique, so we offer personalized solutions tailored to meet your specific needs. 
Our team will guide you through every step of the process, answering any questions you may have along the way.