Let us install vent insulation in your crawlspace. We'll make sure to cover all the bases down there. Today's the perfect day to seal off your crawlspace and keep it in tip-top shape.
About Huntersville, North Carolina
Huntersville, NC is a charming town located in Mecklenburg County–just north of Charlotte. It offers a perfect blend of small-town charm and access to big-city amenities.
Huntersville's natural beauty is highlighted by its proximity to Lake Norman, the largest man-made lake in North Carolina. The Latta Plantation Nature Preserve offers miles of scenic trails for hiking and biking. 
Huntersville has a thriving arts and culture scene with several art galleries and regular events such as art festivals and live performances. History enthusiasts can visit the Historic Rural Hill Farm or take a trip back in time at the Carolina Renaissance Festival
Huntersville has various recreational facilities including parks with sports fields, tennis courts, and playgrounds. 
For Huntersville locals who need crawlspace services, the humidity levels can be a concern. Crawlspace moisture control is important for protecting your home from mold growth, structural damage, and pest infestations. Fortunately, companies like Freedom Crawlspace Services specialize in crawlspace dehumidification solutions to keep your home safe. 
Got crawlspace issues? We've got you covered with the best solutions in town! Say goodbye to all your crawlspace woes with our top-notch services.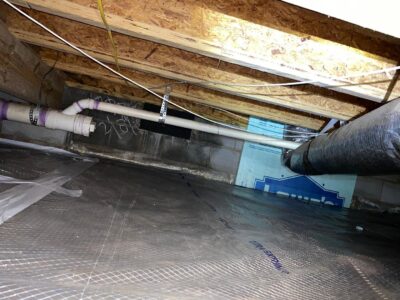 Dealing with crawlspace problems is no joke if you want to keep your home safe and healthy. Luckily, at Freedom Crawlspace Services, we've got you covered with the best solutions for all your crawlspace needs. No matter if you're facing moisture problems, insulation issues, or pests invading your space, our team of experts is here to lend a hand.
Reasons Why We're the Leading Company for Crawlspace Services in Huntersville, NC
Freedom Crawlspace Services is the leading crawlspace services provider in Huntersville, NC. Our experienced and knowledgeable team can help you with all of your needs for this important part of your home. 
Here are just a few reasons why we're the best choice when it comes to crawlspace solutions:
Premium Quality & Attention to Detail

Use of Latest Technologies and Techniques

Prompt Responses & Fast Resolution to Crawlspace Issues

Highly Trained, Knowledgeable & Friendly Staff 
Protect Your Crawlspace From Potential Issues By Taking Action Today!
As a homeowner in Huntersville, NC, it's important to understand that there is no universal solution for every crawlspace problem. Each issue requires a unique approach based on its specific characteristics and needs.
When dealing with problems in your crawlspace, such as water intrusion, animal intrusion, or pest infestation, it is crucial to seek assistance from a knowledgeable professional. They will have the expertise and experience to effectively address these issues and prevent further damage.
At Freedom Crawlspace, we prioritize the safety and security of your crawlspace. Our team goes above and beyond to address any issues and provide a lasting solution. Experience the difference by calling us today! Contact us now for expert assistance and ensure the long-term integrity of your crawlspace.
If you're dealing with crawlspace issues, our team is here to help! We'll make sure you get top-notch results. Just reach out to us whenever you need assistance.
Don't be the only one missing out on these awesome benefits! Join in and help create a safer and more comfortable environment for everyone in your home or building. Just reach out to our experts and they'll set up an appointment for you. They'll take care of insulating your crawlspace vents with skill and competence.