Don't let a neglected crawlspace compromise the safety and health of your home. Our professional crawlspace services can address issues such as moisture, mold, pests, and insulation problems.
About Stallings, NC
Stallings, North Carolina is a charming suburban town located in Union County. Known for its family-friendly atmosphere and convenient location, Stallings offers a peaceful and close-knit community for its residents.
With its well-maintained parks, recreational facilities, and excellent schools, Stallings is an ideal place to raise a family. The town also boasts a variety of local shops, restaurants, and entertainment options, ensuring that residents have everything they need within reach. Whether you're looking to enjoy the outdoors or explore nearby attractions, Stallings has something for everyone.
If you are a resident of Stallings, NC, then you know the importance of maintaining a safe and healthy home environment. One area that often goes overlooked is the crawlspace. Crawlspace issues can lead to a range of problems, including poor air quality, moisture damage, and even structural issues. That's where Freedom Crawlspace Services comes in.
With our expertise in crawlspace encapsulation and repair, they are committed to providing Stallings locals with top-notch services to ensure a clean and secure crawlspace area for their homes. Call us to learn how our crawlspace services can benefit you as a homeowner in Stallings, NC.
Crawlspace Vapor Barrier Installation: The Key to Keeping Your Home Dry & Healthy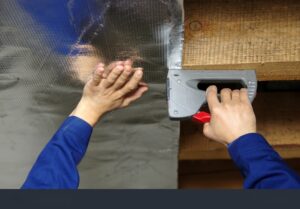 Are you concerned about the moisture levels in your crawl space? Are you looking for an easy and affordable way to protect your home from the elements while improving its energy efficiency and air quality? If so, installing a vapor barrier in your crawl space might be just what you need.
At Freedom Crawlspace Services, we understand the importance of keeping your crawl space dry and free of mold and mildew. We specialize in vapor barrier installations that are designed to keep moisture out while providing a durable protective seal that will last for years to come.
Our experienced technicians can help you choose the right materials and installation methods for your specific needs, ensuring a secure and long-lasting barrier that will protect your home from any future damage.
Whether you're in the process of building a new home or are just looking to upgrade your existing crawl space, Freedom Crawlspace Services can provide you with reliable and professional vapor barrier installation services.
Our team is trained in the latest methods for proper installation, giving you peace of mind knowing that your home is protected from moisture and air infiltration. We use only the highest quality materials to ensure a secure seal that will last for years, helping you save money on energy costs in the long run.
We Offer Top-Notch Solutions for All Your Crawlspace Needs
When it comes to addressing crawlspace issues, finding the right solutions is crucial for maintaining a safe and healthy home. At Freedom Crawlspace Services, we understand the importance of providing top-notch solutions for all your crawlspace needs. Whether you're dealing with moisture problems, insulation issues, or pest infestations, our team of experts is here to help. 
If you need help with your crawlspace, our team is here to offer exceptional results. Don't hesitate to contact us for assistance
Why Our Clients in Stallings, NC Love Us
With our extensive experience and expertise, Freedom Crawlspace Services excels in delivering exceptional crawlspace services. Our team consists of highly skilled professionals who possess comprehensive knowledge, guaranteeing that your crawlspace is taken care of by experts.
Fast Response to Your Needs

Experienced & Certified Team to Handle Your Crawlspace Issues 

Same-Day Service–No Hassle 

Customized Solutions That Leave You With Peace of Mind
Take Action Now And Prevent Issues In Your Crawlspace— Contact Us For Our Professional Services!
If you're a homeowner in the area, then you know that there is no one-size-fits-all solution for any crawlspace issue. That's why it's important to contact an experienced professional when faced with any kind of issues in your crawlspace, whether they be due to water intrusion, animal intrusion or even pests.
At our company, we go above and beyond to ensure that your crawlspace is safe, secure and free from any issues. Call Freedom Crawlspace today and see the difference!