Discover why Freedom Crawlspace Services in Harrisburg, NC's top contractor for encapsulation, vapor barrier installs, and waterproofing. We solve moisture issues in crawlspaces. To recover your crawlspace, call (803) 493-9902 immediately!
We're Your Trusted Crawlspace Encapsulation Partner
At Freedom Crawlspace Services, we know protecting your home and loved ones from the elements is important. That is why we specialize in crawlspace encapsulation services. Our experts comprehend the difficulties of working with basements and crawlspaces. 
Our team has been trained to provide quality artistry and expertise that can't be found anywhere else. We strive to ensure that every service we provide meets the highest safety and performance standards. 
Benefits of Crawlspace Encapsulation for Homes in Harrisburg, NC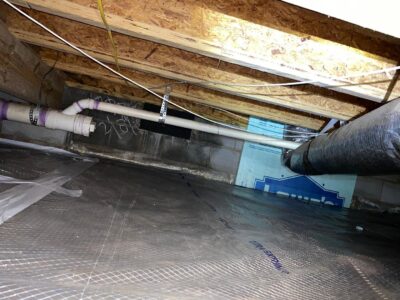 At Freedom Crawlspace Services in Harrisburg, NC know how to properly encapsulate your crawlspace to keep unwanted pests, moisture, and mold out of your property. You may rest assured that your investment will last for years because we only utilize high-quality materials in our projects
Here's why you should have your crawlspace encapsulated: 
Reduced Heat Loss

Improved Indoor Air Quality 

Reduced Pest Infestation

Increased Home Value 
Freedom Crawlspace Services is dedicated to providing excellent service. We value your house and want to assist you in keeping it safe from the damaging effects that water, mold, and insects may have. Get in touch with us now to find out how we can help you get the most out of your crawlspace and give your home the defense it needs. 
Crawlspace Installation Services
We also provide installation services! Our knowledgeable team is experienced in installing: 
We understand that every installation is unique, and we will take the time to ensure our work meets your satisfaction. Whether you need a new system or want to upgrade an existing one, Freedom Crawlspace Services has you covered. 
Our team is standing by to help protect your home from the elements! Contact us today for more information about our services and to request a free estimate. Let us help you keep your home safe and secure! 
Why Choose Freedom Crawlspace for Your Needs?
At Freedom Crawlspace Services, we understand the importance of keeping your crawlspace clean and free from pests, mold, and moisture. Our technicians are certified to provide effective solutions for these issues. Our team has decades of experience providing residential and commercial customers with superior quality service at a competitive price. 
In Harrisburg, North Carolina, we offer both pest control and moisture control. For maximum energy savings, we can also assist you with installing insulation and air sealing in your crawlspace. We also provide professional guidance on how to improve the ventilation in your house or company. 
Our technicians are highly trained in their field and provide reliable service that will last. And because our team is committed to customer satisfaction, we ensure every job is completed with the utmost attention to detail.
Get in touch with us today for a free quote and to find out more about how we can assist you with the safety of your home or company. 
Call Us Now To Get Your Crawlspace Serviced And Enjoy A Breath Of Fresh Air In Your Home!
We understand the importance of maintaining a clean and healthy living environment, which is why our team is here to provide top-notch crawlspace services. Say goodbye to musty odors and hello to a fresher, healthier home!
Don't let a neglected crawlspace ruin the air quality in your house. Our experts are trained to tackle any crawlspace issues, from moisture problems to insulation concerns. With our professional services, you can finally relax knowing that your home is in good hands.
So why wait? Pick up the phone and give us a call now. Let us help you transform your crawlspace into an inviting space that promotes better air circulation and improves the overall quality of life in your home. You deserve nothing but the best, so let us take care of all your crawlspace needs.