Freedom Crawlspace Services ensures that your crawl space is organized and functional. Find a professional installer of vapor barriers for crawlspaces. Call now to get a free quote on restoring your crawlspace.
About Concord, NC
Concord, North Carolina is a city located in Cabarrus County, in the state of North Carolina, United States. It is the second-largest city in the Charlotte Metropolitan Area.
Concord's strong community spirit is evidenced by its numerous parks and recreational facilities, such as the Frank Liske Park and the Concord Greenway. The city also hosts many annual events, including the Charlotte Motor Speedway's Coca-Cola 600 race and the Concord Veteran's Day Parade.
Concord, North Carolina is a vibrant and dynamic city with a rich history, diverse economy, excellent schools, and beautiful parks. The city's commitment to promoting cultural diversity and community engagement make it an attractive place to live, work, and visit.
If you're in Concord, NC and in need of crawlspace services for your home, then don't think twice calling Freedom Crawlspace for exceptional results! 
Why Your Crawlspace Needs Vapor Barrier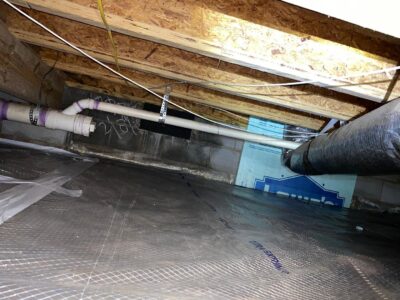 Mold and mildew growth, which can cause serious health problems like asthma and respiratory infections, can be prevented thanks to the airtight seal we provide with our vapor barriers. Vapor barriers are another way to make your home in Concord, NC more energy efficient and save money on heating and cooling expenditures. 
Vapor barriers are made of a plastic sheeting that is installed in between the insulation and the ground. It acts as an airtight barrier preventing any vapor or moisture from entering into an area that can cause mold or rot. Installing a vapor barrier will help maintain the integrity of your home's foundation and prevent any expensive repairs in the future. 
Our Vapor Barrier Installation Process
Freedom Crawlspace Services has got you covered! Our trusted crawlspace contractor in Concord, NC will swing by to inspect your home or business's crawlspace before we install a vapor barrier. We use top-notch techniques and equipment to seal up any entry points, so no more damp air sneaking into your crawl space. 
Once that's done, we'll put up a super strong vapor barrier around the foundation's walls and floor. This will make the air quality better and help you save on your utility bills. Check out how Freedom Crawlspace Services installs vapor barriers in crawlspaces!
Investigate the property thoroughly.

We'll assess water and structural damage before installing the vapor barrier.

Seal Crawlspace Doors and Vents.

Covering vents and installing airtight doors will block outside air and moisture. Moisture trapped in the crawlspace can damage insulation and produce mold.

Eliminate the Flooding.

We must build a drain system to remove standing water. Water vapor can still infiltrate your crawlspaces.

Rebuild it

. Mold can damage your building's structure over time. Before installing vapor barriers, we will build crawlspace support jacks to restore your flooring and eliminate structural sagging.

Encase and Insulate.

We're crawlspace encapsulation. Crawlspace liners prevent moisture from entering your crawlspace and allow the procedure to progress without damaging your floors or walls. Our staff recommends crawl space insulation.

Dehumidify the Crawlspace

. Dehumidifiers keep rooms dry and prevent mold growth. Freedom Crawlspace Services offers reliable and affordable crawlspace dehumidifiers.
Why Should You Go with Freedom Crawlspace Services?
We are proud to be one of the top crawlspace service providers in Concord, North Carolina, and we take great pride in our commitment to providing superior service to locals living in the area. 
Committed To Providing Superior Service

Owned And Managed By A Kind-Hearted Family

Trustworthy Crawlspace Repair Services For Years

Guarantee Consistently High-Quality Results At Reasonable Prices
Starting Investing in Your Crawlspace Today!
At Freedom Crawlspace Services, our experienced technicians are always available to answer any questions or concerns about our services. We believe that by providing a high level of customer service, we can ensure the satisfaction of our customers and keep them coming back for all their crawlspace needs.
Contact us today to learn more about how we can help improve your home's structure and increase energy efficiency!