Ensure the well-being of your crawlspace by reaching out to Freedom Crawlspace Services. Our team of experts can conduct a thorough inspection and assessment to identify any potential issues. Call now to get started! 
About Pineville, NC
Pineville, North Carolina, is a growing suburban community located in the Charlotte-Mecklenburg metropolitan area. With its close proximity to downtown Charlotte and other exciting attractions such as Carowinds amusement park and the US National Whitewater Center, Pineville has become a popular destination for vacationers and residents alike.
From its quaint downtown shopping district to its numerous parks and trails, Pineville has something for everyone. Home to a variety of businesses, including restaurants, retail stores, banks, medical facilities and corporate campuses, Pineville also provides great opportunities for those looking to start a business or move their existing one to the area.
With its diverse population and growing economy, Pineville is quickly becoming one of North Carolina's most desirable places to live.
At Freedom Crawlspace Services, we are proud to serve our Pineville community and help provide residents with the peace of mind that comes with knowing their crawlspaces are in good shape. Let us show you what we can do – contact Freedom Crawlspace Services today!
Dehumidifier for Crawlspaces in Pineville, NC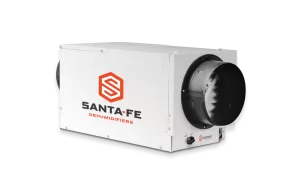 Freedom Crawlspace Services addresses customer inquiries, including quality issues, about their products and services. We offer a durable crawlspace dehumidifier, which is energy-efficient and adaptable to different crawlspace constructions. 
Crawlspace dehumidifiers save homeowners money on energy bills and maintain a healthy humidity level of 40%-50%. They are efficient, customizable, and can be standalone or ducted
When it comes to selecting the best dehumidifier, Freedom Crawlspace Services' knowledgeable staff can recommend the best product for your home or construction.  We also offer installation services for our dehumidifiers to ensure they are properly installed and working correctly.
Our staff is available throughout Pineville, NC and the surrounding area to answer any questions you may have about crawlspace dehumidifiers or other products we offer. Contact us today for more information! 
How We Control Humidity in Your Crawlspace 
Our economical crawlspace humidity-control methods include vapor barriers and encapsulation systems. Crawlspace moisture escapes with proper ventilation. Vents and ventilation minimize humidity. Crawlspace dehumidifiers are also cost-effective. These energy-efficient crawlspace dehumidifiers can manage low temperatures and restricted space.
Vapor barriers are thick plastic sheets installed on the crawlspace floor and walls to keep moisture out. This barrier keeps moisture out of the crawlspace and reduces humidity.
Encapsulation technologies entirely encapsulate the crawlspace to create a conditioned space. These systems maintain humidity through insulation, dehumidifiers, and ventilation. Encapsulation systems enable long-term crawlspace humidity control but demand a bigger initial expenditure.
Always consult an expert to examine your crawlspace needs and find the best, most cost-effective solution for your property. Freedom Crawlspace Services' experts can propose the appropriate product for your home or construction. Call us!
Explore Other Services We Offer in Pineville, North Carolina
We're here to help you with all of your basement and crawlspace needs. From encapsulating and draining to mold remediation and moisture control, we provide a full range of services to keep your basement and crawlspace safe. 
We specialize in foundation repair, spray foam insulation, air sealing, sump pumps, vapor barriers, and much more. Our team is experienced and knowledgeable about all aspects of crawlspace repair so you can rest assured that we will provide the best solution for your home. 
Contact us today for a free inspection and consultation!
Give Us a Call for Professional Crawlspace Services in Pineville, NC & Nearby Areas!
When you retain the services of Freedom Crawlspace Services, you are doing business with a team that is dedicated to transforming your crawlspace into an atmosphere that is clean, efficient, and free of issues. 
Get in touch with us right away to experience the Freedom experience for yourself!