Do you find yourself constantly concerned about moisture and mold issues in your crawlspace? We have a solution for you! Invest in our professional crawlspace services and enjoy a healthier and more functional living environment!
About Newell, NC
Newell is a small town located in North Carolina with a rich history and a vibrant community. The town offers picturesque landscapes and is great for nature enthusiasts with parks and trails for hiking, birdwatching and picnicking.
Newell also has recreational facilities and playgrounds for families to enjoy outdoor activities together. The town is home to several historical landmarks and museums showcasing its heritage including the Newell Historical Society Museum. 
Newell is an ideal destination for both residents looking for a close-knit community or visitors seeking an authentic North Carolina experience due to its scenic beauty and warm hospitality.
If you're in Newell, NC and need help with your crawlspace, you can trust Freedom Crawlspace Services for a free inspection. We specialize in insulation, moisture control, and pest prevention services. Plus, we'll make sure the job is done right the first time! So if you're looking for peace of mind knowing that your crawlspace is safe and secure, give us a call today. 
Crawlspace Waterproofing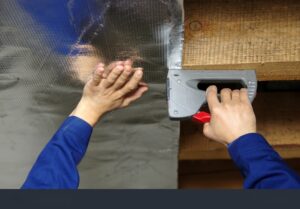 Wet basement or crawlspace?  No matter what your situation, there are solutions available to help protect and waterproof your home. Crawlspace waterproofing is one of the most effective ways to keep your home dry and prevent any water damage from occurring. From installing sump pumps and dehumidifiers to applying a waterproof sealant or coating, there are plenty of options available for keeping your crawlspace dry and safe.
At Freedom Crawlspace, we understand the importance of making sure your home is protected from water damage. Whether you need a temporary solution or are looking for something more permanent, our team of experts can help you find the perfect waterproofing solution for your needs. 
Our experienced technicians will evaluate your space and provide you with the best options to fix any water issues in your crawlspace. We specialize in installing sump pumps, drainage systems, and basement waterproofing materials that are designed to keep your home dry and safe for years to come.
Call Us for Top-Notch Crawlspace Services in Newell, NC
Newell locals and residents: 
If you require assistance with your crawlspace, our team is readily available to provide excellent results. Feel free to get in touch with us without any hesitation. 
Why Choose Our Crawlspace Services?
providing top-notch crawlspace services. Our team of professionals is highly skilled and knowledgeable, ensuring that your crawlspace is in good hands. 
Quality Workmanship 

Prompt & Reliable Service 

Affordable Pricing with No Hidden Costs

Personalized Approach for Every Project 
Don't Let Your Crawlspace Become A Nightmare—Call Us For Service! 
Your crawlspace can be a breeding ground for moisture, pests, and mold. But don't worry, our crawlspace services are here to help. We offer expert solutions to keep your crawlspace clean, dry, and free from any unwanted visitors.
Contact us today for reliable and affordable crawlspace services. Don't wait until it's too late!