Discovering Fort Mill, South Carolina
Fort Mill, SC is a city with a rich history, culture, and outdoor activities. The city was established in the mid-1800s and still retains its quaint charm.
Historic downtown Fort Mill is an interesting place to explore, with local shops, restaurants, and museums like the Olde English District Museum. Fort Mill has many parks and trails for outdoorsy people, such as Anne Springs Close Greenway with miles of hiking and biking trails and stunning views.
If you're in Fort Mill, it is important to prioritize the maintenance of your crawlspace. This will help ensure that your home remains safeguarded against the effects of natural elements. 
When it comes to crawlspace installation, repair, or maintenance in Fort Mill, SC, Freedom Crawlspace Services is the trusted expert. We specialize in providing high-quality services to meet all of your needs.
Crawlspace Waterproofing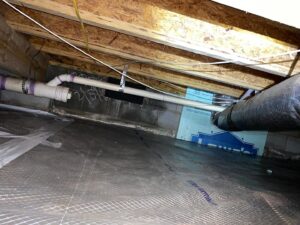 Crawlspace waterproofing is essential for those who want to protect their home from moisture and water damage. With Freedom Crawlspace Services, you can be sure that your crawlspace will remain dry and free of any structural damage due to water intrusion.
We offer effective solutions designed to keep the area dry without sacrificing air quality or energy efficiency.
Dehumidifier

Drainage Matting

Sump Pump Installation
Our services include installing interior and exterior drainage systems, installing sump pumps, sealing any existing cracks or openings in the walls of your crawlspace, and other solutions to keep moisture out. We also offer vapor barriers for added protection against moisture and water damage.
We provide comprehensive inspection services to ensure that the work we do is up to code and meets the highest standards of quality. Our team of experienced professionals is available to answer any questions you may have about crawlspace waterproofing and will provide helpful advice on the best solution for your needs.
Why Choose Freedom Crawlspace Services
Years of Expertise in the Field 

Personal Touch to Every Project

High-Caliber Service that Protect Your Investment 

Licensed & Dedicated Crawlspace Pros 

Comprehensive Approach to Crawlspace Waterproofing 

Cutting-Edge Technology & Products for Maximum Protection
At Freedom Crawlspace Services, we understand the importance of keeping your crawlspace dry and free of moisture. That's why we offer comprehensive solutions that will protect your investment by eliminating water from even the most difficult-to-reach areas. Our team of experienced professionals understands the importance of providing a personal touch to every project we work on. We are dedicated to delivering professional service using cutting-edge technology and products for maximum protection.
We have the expertise, knowledge, and experience required to provide you with a quality job that you can rely on. From start to finish, our goal is to make sure your home is free from water damage. We will assess the condition of your crawlspace and develop a tailored plan to keep it dry and humidity-free. Our licensed professionals can install state-of-the-art products such as sump pumps, drainage systems, dehumidifiers, vapor barriers, and more. 
Get In Touch With Us For Expert Crawlspace Services!
If you are searching for dependable crawlspace maintenance that can help you make that possible, it is best to call the experts. At Freedom Crawlspace Services, we got you covered, we offer services from sump pump installation, drainage, crawlspace inspection, and a lot more.